World Cup Tunes
May 23rd, 2010 | by: Eric |

View Comments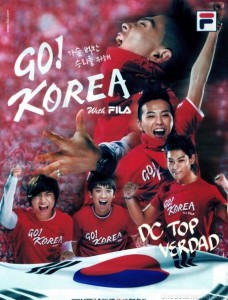 In contrast to the United States where the average American might not even know the World Cup is mere weeks away, here in Korea the public is being bombarded by a dazzling array of advertisements and products specifically geared towards the upcoming finals. From banks and cell phone companies to restaurants and insurance firms, it seems that everyone is trying to suckle the World Cup teet for a few extra dollars (or Korean Won).
Perhaps the most interesting aspect is the number of musicians who are collaborating to release songs cheering on the Korean national team to victory in passionate displays of nationalist videos. Call me crazy, but I really doubt most of these guys are the die-hard soccer fans they make themselves out to be. Anyway, in a quick break from actually soccer news, take a moment to "enjoy" the sounds of the following Korean artists currently blasting throughout the Korean airwaves.
Know of any songs from other World Cup-bound nations? Be sure to post a link in the comment section!
Subscribe

South Korea World Cup Team Blog RSS Feed

Share
blog comments powered by Disqus