Park, Park Wherever You May Be!
November 25th, 2010 | by: Jae |

Comments Off
I read an article by John Duerden several weeks ago (it can be read here) where he muses about whether our beloved captain Park Ji-Sung should stay at Manchester United or head elsewhere. It's an interesting question as there are certainly many pro's and con's to either decision.
It must be noted that since the article was published, Park has seen a lot more playing time with United, due to the long-term injury to Antonio Valencia and some minor injuries to Nani and Ryan Giggs. Nani and Giggs have since returned and Gabriel Obertan has seen a return to favor as of late, so Park may experience a bit more competition for a spot in the starting XI. If things do return to what they were early in the season, should Park seek a move to another club where he is assured a regular spot? There would probably be several suitors for Park should he become available or request a transfer, but none would likely be of the same caliber as United. Bayern Munich was rumored to be interested last season, but that move seemed unlikely. I would expect a number of smaller mid-table English clubs, maybe some similar type clubs in Germany, and probably several Asian teams.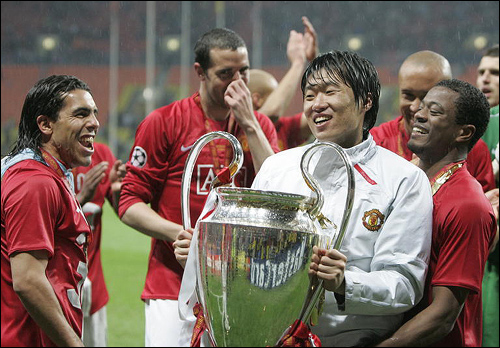 At these clubs Park could possibly become a key player and have a central role in the team, something that for the most part, has been lacking while at United. In Manchester he's a valuable squad player, a player who sacrifices for the team, runs his socks off, will track back and cover for the flair players, but he's not the first name on the team sheet. So, why should he stay at United? Probably the most important factor, is that at United they are almost always going to be challenging for silverware. Even this season when the team is certainly weaker than in seasons past, they are still right there with Chelsea and Arsenal at the top of the Premier League, they are through to the knockout round of the Champions League, and figure to be competitive in the Carling and FA Cup. It would also be difficult, as mentioned earlier, for him to move to a bigger or even equal club. If you factor in history, titles, and fan popularity worldwide there are maybe three or four clubs that can compete with United. Third, he's fairly well established in Manchester and English football. Besides that his skill set seems quite well suited to the English game. I don't feel his technical skill is quite good enough for him to be truly successful in Spain and I don't know if his game is well suited to the slower, more tactical Serie A.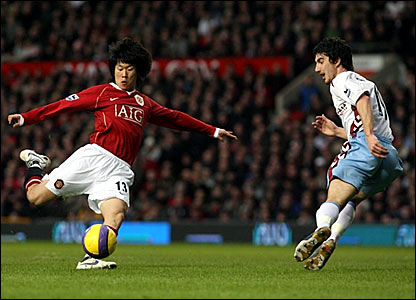 On the other hand, Park is not young anymore and, considering he will turn 30 in February you also must believe that he is likely entering the declining part of his career. When all the players are healthy, I imagine that Ferguson will likely return to Nani and Antonio Valencia as his preferred wide midfielders. He's already won a Champions League medal, three League titles, the FIFA club world championship, and three Carling Cup championships so his trophy cabinet certainly isn't empty. Despite not being a regular starter the last five years he's been at the club, you can't describe his time at United as being a failure or disappointing. So, maybe it is time for a change, however, only time will tell when Park will call time on his United career.
Subscribe

South Korea World Cup Team Blog RSS Feed

Share
Comments are closed