Park Chu-Young Update
June 13th, 2012 | by: Jae |

Comments Off
First off, I hope to have a review of the match against Lebanon will be up within the week. That being said, I had intended to write a post chronicling the issues surrounding Park Chu-Young, and was writing it on the plane from Korea to the U.S., when I discovered upon arriving, that Park has finally broken his media silence. Thus, rendering the post I was writing, a bit moot. But, the news, if you have yet to read it.
When South Korea manager Choi Kang-Hee released his roster for the friendly against Spain and qualifiers against Qatar and Lebanon, there was a notable, but perhaps slightly expected omission. Park Chu-Young. In his press conference Choi revealed that he and the KFA had told Park that Park would need to meet the press to clarify his intentions behind delaying his military service. Park never did, and he "disappeared" from sight for awhile. As such, he was not called up.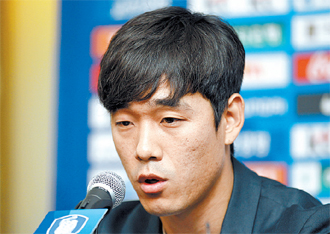 Finally, on Wednesday, Park held a press conference at the KFA headquarters in Seoul where he apologized for his disappearance and the controversy that he has caused. Park further explained about his decision to delay his service as it would allow him to continue to play in Europe for the rest of his career, rather than just a few years before having to serve. Park went on to tell reporters that he disappeared from public sight for a month because he "felt so sorry to my fans and my thoughts weren't organized at that time." Park also revealed that he wrote a letter to the military manpower administration pledging that he will indeed fulfill his commitment. *To elaborate, all Korean men are required to serve in the military. However, after the age of 36 they can only be called up in the event of war. Part of the uproar was over the fact that Park, now 27, would be 37 if he used all 10 years of the Monaco residency, allowing him to, if he chose, avoid serving at all.
Also present at the conference was U-23 and Olympic team coach Hong Myung-Bo. His presence there is leading many to speculate that Hong will select Park as one of the three "wild card" players for his 18 man team when he reveals the team next week. Hong did say that Park is on the 35 man preliminary squad. If Park is asked to play with at the Olympics he will likely accept given his club situation at Arsenal. If he does play, that could render this whole debacle pointless as a winner's medal at the Olympics exempts one from military service. Park tried to avoid this issue by stating that he is not thinking about a medal.
Either way, hopefully this will end this whole mess. The team has done well without Park, both when he was injured at the Asian Championship and in the past two matches. However, keeping him out for non-footballing reasons is dangerous as Ji Dong-Won is still a bit raw and Lee Dong-Gook is a bit old (he's 33). The team needs Park in the squad.
Subscribe

South Korea World Cup Team Blog RSS Feed

Share
Comments are closed